Exclusive: Euro zone discussed capital controls if Greek exits euro: sources
(Reuters) - European finance officials have discussed limiting the size of withdrawals from ATM machines, imposing border checks and introducing euro zone capital controls as a worst-case scenario should Athens decide to leave the euro.
Greek Bank Deposit Outflows Said to Rise Before Elections
By Elisa Martinuzzi and Christos Ziotis -
Jun 13, 2012 4:37 AM ET
Greek deposit outflows have accelerated before this weekend's elections, two bankers familiar with the situation said, on concern the nation may move closer to abandoning the euro.
Daily withdrawals have increased to the upper end of a 100 million-euro ($125 million) to 500 million-euro range this month, one banker said, asking not to be identified because the figures aren't public.
A second banker said the drawdown may have exceeded 700 million euros yesterday.
Greece's power regulator RAE told Reuters on Friday it was calling an emergency meeting next week to avert a collapse of the debt-stricken country's electricity and natural gas system.
RAE took the decision after receiving a letter from Greece's natural gas company DEPA, which threatened to cut supplies to electricity producers if they failed to settle their arrears with the company.
The country's pharmacies are owed 500m by the state-backed healthcare insurer, according to reports. From next week patients will have to stump up the cash for their medicines upfront, and then claim a reimbursement from the National Organization for Healthcare Provision (EOPYY).
Barcelona doctors, ill patients protest health cuts
BARCELONA, Spain — Doctors and sick patients threw fire crackers and blew whistles Wednesday in a second day of noisy protests in Barcelona against crisis spending cuts that have shut down hospitals.
Spain's lost generation: youth unemployment surges above 50 per cent
More than half of young Spaniards are out of work, according to fresh statistics, signalling a lost generation that has been hit hardest by Spain's economic woes, as the total number of unemployed surged above five million.
The number of 16-24 year old Spaniards out of work rose to 51.4 per cent in December, more than double the European Union average, according to a report by
Spain's
National Statistics Institute. The national unemployment rate hit 22.85 per cent, the highest rate in nearly 17 years and the current highest in the industrialised world.
loomberg News
Italy Tax Increases Backfire as Monti Tightens Belts
By Andrew Frye -
Jun 12, 2012 6:00 PM ET
Italian Prime Minister
Mario Monti
is facing signs that tax increases are beginning to backfire as his new levy on real estate goes into effect.
Value-added tax receipts have declined since Monti's predecessor,
Silvio Berlusconi
, raised the rate by 1 percentage point in September as the economy was slipping into
recession,
government data released June 5 showed.
The amount collected fell in the 12 months ended April 30 to the lowest since 2006.
Unemployment From Italy to Spain Fuels Debt Crisis
Surging unemployment rates from Spain to Italy and Greece are threatening efforts to quell the region's debt crisis and keeping bond yields close to record premiums relative to benchmark German bunds.
Written by Jorge Martín
Wednesday, 06 June 2012
May ended in Spain with frantic attempts to prevent the collapse of the banking system, saddled with a massive amount of toxic loans linked to the housing bubble. The government attempted to involve the European Union in the rescue of Bankia, while there were rumours of IMF plans for a bail out of Spain. Meanwhile miners have gone out an all out strike in defence of jobs.

The miners are blockading roads with burning barricades in the mining counties and 10,000 of them marched in Madrid and warned that "next time round we will come with dynamite".
Increasingly in Europe, Suicides 'by Economic Crisis'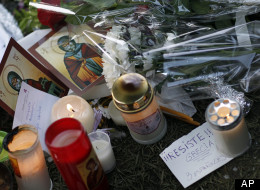 New York Times:
On New Year's Eve, Antonio Tamiozzo, 53, hanged himself in the warehouse of his construction business near Vicenza, after several debtors did not pay what they owed him.
Read the whole story at New York Times
Chart of the day: homelessness surges
Number of homeless families increases to 48,510, the biggest rise for nine years.

By George Eaton

Published 08 March 2012 16:52
While the right-wing press frets that
a mansion tax
may force some people to sell their £2m homes, what of those who don't have one at all?
New figures
out today show that the number of households officially classed as homeless rose by 14 per cent to 48,510 in 2011, the biggest rise for nine years. The data, which includes those in temporary accommodation, also reveals that 69,460 children or expected children are in homeless households.
Skid row street population surges back in Los Angeles
A city initiative had reduced the numbers, but the weak economy, a court ruling and the early release of criminals have spurred an increase, officials say. Activists have a different view.
Read Alexandra Zavis' article
Lisbon Protests: More Than 100,000 Rally Against Austerity In Portugal By Andrei Khalip

LISBON, Feb 11 (Reuters) - More than 100,000 people packed Lisbon's vast Palace Square on Saturday in the largest rally against austerity and economic hardships since the country resorted to an EU/IMF bailout last May, and organisers vowed to step up protests and labour action.