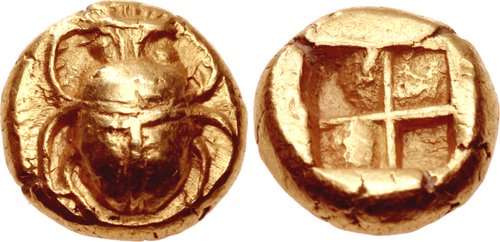 This attractive Hemihekte of 1.32 grams sold for $11,000 in a European auction while
the AU graded Oktadrachm of 27.7 grams sold for the same price in a US auction the same month.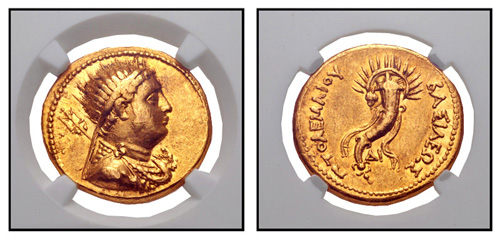 There can be no doubt that graded ancients are now taking the US by storm.
Heritage has become a leading player by launching a "Platinum night" of high value Ancients and World coins at the ANA in Chicago next month, that boasts a very high percentage of graded Ancients. Several major US coin dealers are now offering a full array of graded ancients to their vast clients bases.
Prices are rising as new customers flood the market. And because of the relative inexperience of many of the new participants, prices are becoming increasingly Grade-based, and at times, erratic. Sometimes extraordinarily ugly coins with high grades now sell for 3-5 times what they did a year ago. Sometimes beautiful coins with low grades sell for less.
It should be said, too, that often the grades do reflect true value, especially for historically important issues and particularly beautiful issues. Though, without experience, it can be tough to recognize which issues are accordingly important. Nevertheless, the extraordinary rarity of theses Ancient coins in comparison to what's considered rare in the US market, coupled with the authentication of historical artifacts thousand of years old, provides an obvious value to all theses new participants. It's clear to all that Ancients are extremely undervalued by all objective measurements.
And in the US it is only because of the grade/authentication process that US based collectors feel comfortable to become involved in the market.
MEANWHILE.... over in Europe, there is a real resistance to what is viewed as a somewhat declasse American phenomenon. The attitude there is that the value of an ancient coin has something to do with the technical grade.... but perhaps much less than an American might think. In Europe, beauty and historical importance far outweigh the technical grade. I have heard European dealers laugh out loud at the prices some coins with Choice Mint State grades are bringing in US auctions. To them, these are common coins, fashionable of the moment, with no real lasting value. It is not uncommon to see perfectly designed and struck electrum fractions ( coins of 0.5 grams) with complex designs and of tremendous rarity sell for more than higher grade Oktadrachms (coins of 27.7 grams).
Who is right?
Obviously, the market is always right. And right now there are two markets. And with the protectionist tendencies on both sides of the Atlantic intensifying it is highly likely that the divide between the two markets will only intensify over time as transportation becomes more difficult, customs laws ever more onerous, and cultural property seizures increasingly prevalent.
The element that unites these markets is that on either side of the Atlantic it's clear to all that Ancients are still extremely undervalued by all objective measurements - whichever you happen to favor.