HOW WELL FUNDED ARE YOUR STATE PENSION PLANS?
HERE"S THE GRAPH USING THE STATE'S GROWTH PROJECTIONS. NOT BAD EH? ONLY A FEW STATES IN REAL TROUBLE. AS LONG AS THEY GROW ACCORDING TO THEIR FANTASY MODELS THAT PROJECT 8 PERCENT RETURNS IN AN ECONOMY GROWING AT A 3.5 PERCENT RATE: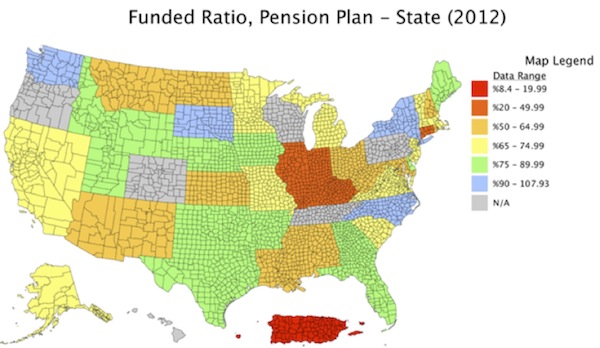 HERE'S THE GRAPH USING THE STATES ACTUAL FUNDING AS OF TODAY.
Here we see each state's FUNDED RATIO: This represents a plan's assets as a percentage of liabilities, or the amount of money actually owed in benefits compared to the amount they actually currently have.
WOW, WHAT A DIFFERENT STORY WE GET WHEN WE USE REAL NUMBERS VERSUS FANTASY MODEL PROJECTIONS: YELLOW, ORANGE, AND RED STATES IN SERIOUS TROUBLE: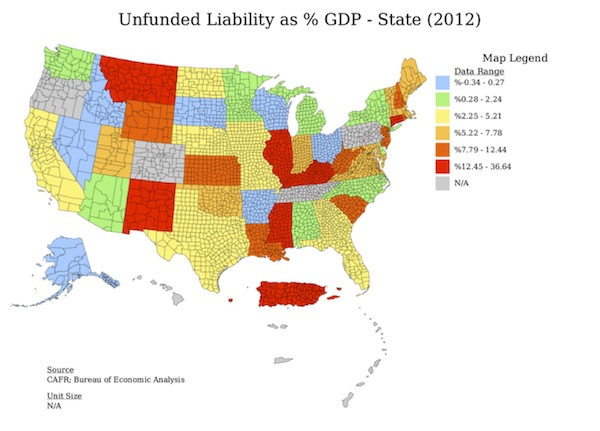 The funded ratio is one of the primary measurements of a pension plan's overall funding health. It provides an additional layer of context that unfunded liabilities alone cannot.
For example, California has a larger unfunded liability than Kansas does, but based on what these states currently know they will owe to retirees versus the amount of money they actually have, the funded ratio tells us that Kansas is in worse shape than California, with Kansas' plans being 29% funded and those of the Golden State being 42% funded.
By this measure, the seven most poorly funded states are Illinois (24%), Connecticut (25%), Kentucky (27%), and Kansas (29%), along with Mississippi, New Hampshire, and Alaska, which are tied at 30% funded
.
At the other end of the spectrum, using a realistic assumption of future returns suggested by both Moody's and GASB,
Wisconsin, the most well-funded state in the country, has just a 57% funded ratio, followed by North Carolina (54%), South Dakota (52%), Tennessee (50%), and Washington (49%)
.
In other words the very strongest states are still about 50 percent UNFUNDED.
Now let's just suppose the economy turns down, instead of strongly up, as the states' models suggest. Many states are using 8 Percent as expected returns against an economy that should grow 3.5 percent. Let's say that's a tad optimistic. How long before the states actually go broke?
Gee whilikers. I don't know. Depends how bad the downturn might be. But don't worry the last real crisis was FIVE long years ago. Ancient History. Who can even remember back that far, except a bunch of cranky old Freedom Haters, and Class Warriors?
Nothing to worry about here. Especially because the BANKS are on the job, filling the States coffers with
Interest Rate Swaps
and other Exotic Debt Instruments that nobody but the bankers understand. It worked well for Greece. I'm sure it will turn out just as well for our pensions here.