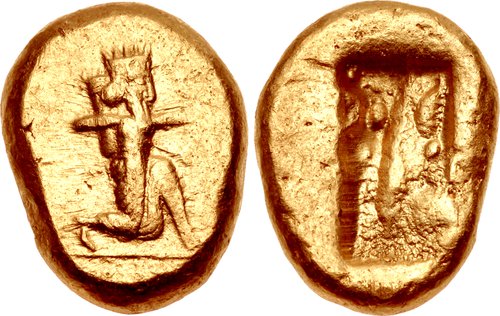 CNG's fall auction, currently on-line, boasts almost 800 Greek gold coins, including many rarities in slightly off-condition. This is normal as CNG, like many top auction outfits save their best material for the Winter auctions in New York at the NY numismatic convention at the Waldorf.
Notable this year is the appearance of the very rare (carradice type II) shooting Daric: the first gold Daric of Darios I. The first gold coinage was introduced by Croesus (now often spelled: Kroisos) of Lydia. Croesus was conquered by Darios of Persia who adopted the Lion and Bull stater of Lydia, and then issued his own coinage in gold and silver: the Daric and the Siglos.
There are three basic types of Daric: Shooting, Dagger, and Running types. Of the three the running type is by far the most common, and one of the most common Greek Gold types. To be sure, "common" when referring to Greek Gold is the same as "Extraordinarily Rare" when referring to US gold. In other words, Common Greek Gold issues, might have a couple of thousand pieces. Very Rare Greek gold, such as the shooting Daric, (pictured above), might boast a dozen known pieces.
That's why the sudden appearance of five or six shooting Darics to hit the market all at the same time - and many in very high grade - is the cause for much speculation. One sold of the CNG site for over $25,000. Another hit the Pars site. A third, graded by CNG in MS was sold privately. This one is up in September on CNG. Another is up in September at Heritage. You can be sure others will appear this winter in NY.
So, what's up? Usually, if a small hoard is discovered, dealers in on the hoard will at least admit its existence. They will never tell you how many pieces are in the hoard. Often, the best pieces go to the best clients, others are put up for auction over the course of a few years. Very occasionally hoards tend to be much larger than buyers realize. But this is the first instance in many years where nobody seems to even be admitting the existence of a hoard. Very Strange. Because before these five coins hit the market all at the same time, the last example to change hands appeared almost 5 years ago in a NAC auction - and that example was VF.
Certainly, as more examples appear, the secret of the source will become known. I'll keep you posted.