India to pay gold instead of dollars for Iranian oil. Oil and gold markets stunned
DEBKAfile
Exclusive Report
January 23, 2012, 5:57 PM (GMT+02:00)
India is the first buyer of Iranian oil to agree to pay for its purchases in gold instead of the US dollar,

debka

file

's intelligence and Iranian sources report exclusively. Those sources expect China to follow suit. India and China take about one million barrels per day, or 40 percent of Iran's total exports of 2.5 million bpd. Both are superpowers in terms of gold assets.
By trading in gold, New Delhi and Beijing enable Tehran to bypass the upcoming freeze on its central bank's assets and the oil embargo which the European Union's foreign ministers agreed to impose Monday, Jan. 23. The EU currently buys around 20 percent of Iran's oil exports.
The vast sums involved in these transactions are expected, furthermore, to boost the price of gold and depress the value of the dollar on world markets.
Iran's second largest customer after China, India purchases around $12 billion a year's worth of Iranian crude, or about 12 percent of its consumption. Delhi is to execute its transactions, according to our sources, through two state-owned banks: the Calcutta-based UCO Bank, whose board of directors is made up of Indian government and Reserve Bank of India representatives; and Halk Bankasi (Peoples Bank), Turkey's seventh largest bank which is owned by the government.

What Does It Mean
A grim
Ministry of Finance
report prepared for Prime Minister Putin is warning today that the decision by Iran to cease taking US Dollars for its oil could very be the
"first shot"
fired in
World War III
, and one which Russia will be blamed for by the Obama regime.
According to this report, Iran swiftly countered planed US sanctions against its
Central Bank
yesterday by
announcing
that it will no longer accept the US Dollar as payment for its oil shipments to India, Japan and China, and further announced that bilateral trade between itself and Russia will, also, break from the US Dollar for settlement in favor of the Iranian Rial and Russian Rubles.
UK retailers paying in yuan
0

Comment(s)Print E-mail China Daily, January 13, 2012
A shop assistant accepts a China UnionPay bank card at a Selfridges' store in London. Many British retailers choose to pay their Chinese suppliers in yuan. [Xinhua]
A growing number of British retailers are paying their Chinese suppliers in yuan.
"Businesses have been talking about the possibility of paying in local currency since the yuan's peg was relaxed in June 2010," Sam Ford, head of Risk Solutions at Barclays Capital, told China Daily in an exclusive interview.
But it is only in recent weeks that the talk has turned into trades for Barclays' clients, Ford added.
According to Barclays Capital, the investment banking division of Barclays PLC, more British retailers are paying in yuan to achieve cost savings of up to 8 percent.
Sudan Sheds the Dollar
The Sudanese government early last month has formally requested from China that their bilateral trade be conducted in Sudanese pounds and Chinese Yuan rather than U.S. dollars.
The Sudan's Central Bank Governor Mohamed Khair al-Zubeir said that "they have submitted an official request to China to deal with them in Sudanese pounds and Chinese Yuan, and it is possible that after a short while they could exit finally from the dollar."
"The dollar has become weak and is deteriorating," Al-Zubair said while speaking to the press in the country's capital Khartoum and that its one of the policies his bank has come up with to control the flow of the currency and maintain the valve of the country currency.
The governor did not say what benefits Sudan would get out of the switch but emphasized the rising economic power of China."We believe that very soon China will become the number one economic power in the world," al-Zubeir said.
China is Sudan's top trading partner and according to 2010 figures it topped $10 billion.
Mexican Government successfully sheds the US Dollar from its economy
February 3rd, 2011

Von Helman
Mexico has always considered the US dollar almost a secondary currency to their Peso as the fact that billions of US dollars spent their way through the Mexican economy in 2009 and 2010 which speaks for itself, but sometimes even the best of friendships come to an end.
The Mexican government in September 2010 enacted a new law which basically restricts the use of US Dollars for almost all purchases inside of Mexico.
China, Russia quit dollar
By Su Qiang and Li Xiaokun (China Daily)
Updated: 2010-11-24 08:02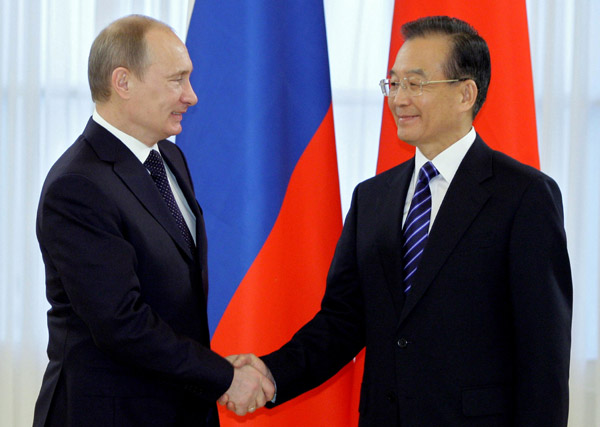 Premier Wen Jiabao shakes hands with his Russian counterpart Vladimir Putin on a visit to St. Petersburg on Tuesday.ALEXEY DRUZHININ / AFP
St. Petersburg, Russia - China and Russia have decided to renounce the US dollar and resort to using their own currencies for bilateral trade, Premier Wen Jiabao and his Russian counterpart Vladimir Putin announced late on Tuesday.