Director Jean-Luc Goddard's handwritten script for his 1963 film "Contempt," which starred Brigitte Bardot, sold this week at Paris-based Artcuriel for $186,800, well over its $77,500-$103,000 estimate.
February 21, 2014 What's the rarest stamp in the world? It could be the 1856 British Guiana One-Cent Magenta. Three times since its issue, the example from Britain's 19
th
century South American colony has broken the auction record for a single stamp. This time around, when it comes up for sale again on June 17
th
at Sotheby's, the rarity is expected to sell for $10m-$20m.
F
ebruary 24, 2014 Boxing great Muhammad Ali's boxing gloves have packed another wallop. At a Heritage sale in New York this past weekend, the pair that Ali wore in his first world championship win against Sonny Liston in 1964 sold for $837,000, setting a new auction record for boxing memorabilia.
The upright piano from the 1942 classic film "Casablanca"--the one on which Sam plays "As Times Goes By"-- sold for $602,500 at Sotheby's in New York.
'Holy Grail of Guitars' Among Those Up for Auction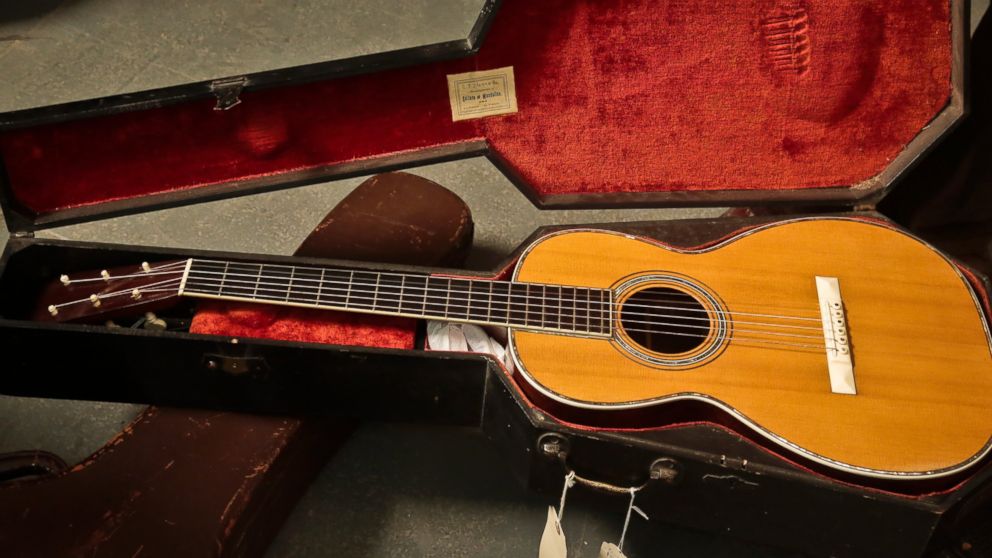 The "holy grail of guitars" is among the hundreds of rare and vintage acoustic guitars going on the auction block in New York next month.
California collector Hank Risan is offering some of his musical instruments for auction by Guernsey's on April 2 and April 3. The 265 pieces from his collection are considered among the finest of vintage guitars to come to auction in terms of rarity, original construction and condition, the auction house says.
A wide range of makers are represented, including Gibson, Gretsch, Washburn, Stromberg and D'Angelico.
The earliest instrument in Risan's collection dates to 1840; the newest is a 2000 re-creation of a 1930 Martin masterpiece, an OM-45 Deluxe. Both the re-creation and the original will be in the auction.
"The OM-45 Deluxe is the holy grail of guitars," Guernsey's President Arlan Ettinger said. Only 14 were ever made.
Among other highlights are a 1900 Manuel Ramirez Flamenco and a 1939 D'Angelico New Yorker.
John D'Angelico was a guitar maker with a studio in Greenwich Village during the first half of the 20th century; his guitars have been described by some "as the Stradivarius of guitars," Ettinger said.
Pre-sale estimates of the instruments were still being worked out Friday.
Several previously celebrity-owned guitars also will be auctioned off: a 1941 Gibson SJ-200 played by Stephen Stills of Crosby, Stills, Nash & Young; a 1967 Gibson SJN Country Western used by Mick Jagger on his 1987 album "Primitive Cool"; and a 1959 Gibson J-200 that Eric Clapton once owned.