A TOILET: SOLID GOLD: $21 Million
Built in 2001, this rather luxurious toilet is made of solid 24-carat gold and coated with gems. Everything in the restroom surrounding it — sink, tiles and doors — is also made of solid gold; the display at Hang Fung Gold Technology's showroom in Hong Kong.
A PAIR OF SHOES Price tag: $3,000,000
A painstaking two (whole) months was spent in carefully crafting a pair of shoes that out of four thousand and six hundred rubies and fifty carats of diamonds. After about sixty days, the opulent heels, glittering in all their glory, were unveiled at the House of Harry Winston, accompanied by a price tag of no less than three million.
A PEN: Price: $1,470,600
The Aurora Diamante is the most expensive writing instrument till date. Only one is for sale per year. The Aurora Diamante contains over 30 carats of De Beers diamonds on a solid platinum barrel. It has a two-tone, rhodium-treated, 18KT solid gold nib and is personalized with a coat of arms, signature or portrait. Aurora Pens says it is the only over 30 carat pen in the world.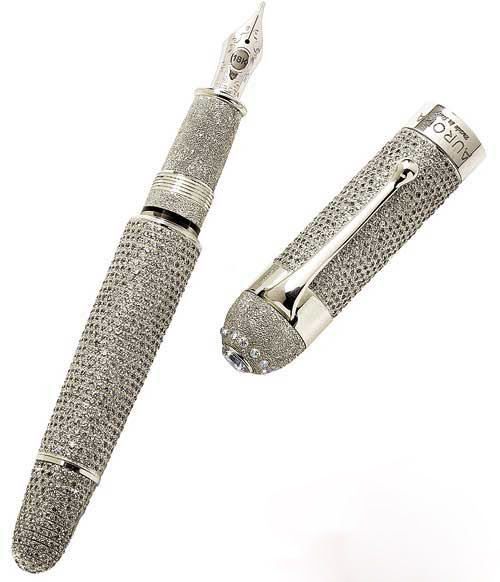 The $400,000 Poop-Scooping Robot designed by the GRASP Lab researchers that is capable of finding and removing 95 percent of pooch's poo at a sidewalk-sparkling rate of one ppm (that's poo per minute).

A Submarine
Triton 1000 Luxury Submersible: $1,690,000
U.S. Submarines' Triton 1000 is a 2-man submarine, designed specifically to be deployed from your huge mega-yacht. It's air conditioned, joystick controlled, and it has leather seats to distinguish it from crappier luxury personal submarines.
A Jetpack
Tecnologia Aerospacial Mexicana's Rocket Belt
$250,000
The Rocket Belt can reach speeds of nearly 10 miles per hour! With each rocket belt purchase, the company also provides complimentary training sessions, a machine to manufacture your own rocket fuel, and 24/7 support – so you'll never have to wait until business hours to fly around in your jetpack again.
A Hover-Chair
Hover IT's Hovering Lounge Chair
$13,366
When you're rich, you can afford to do things that other people can't do, like harness the power of magnetism. People have been using magnets for a long time, but it wasn't until recently that Hover IT put magnetism to good use… by using it to create a levitating lounge chair! However, you have to provide your own cushions, because this thirteen thousand dollar chair doesn't come with them.
A Crystal-Powered Laptop Computer
Luvaglio's Luxury Notebook
$1,000,000
This luxury laptop comes equipped with a 17" monitor and a Blue-Ray drive. Other than being plated in gold and encased in expensive wood, there's only one key difference between this $1 million dollar laptop and a six hundred dollar Sony Viao: this one is powered by a crystal. Okay, it's not technically "powered" by a crystal, but it requires the insertion of a very rare colored diamond that serves as the computer's power button, making it more than worth the $1 million price tag, right?