Gold may have suffered a temporary setback, but the rich are trading dollars for real things at a furious pace:
Fox fur fetches record prices at Finnish auction
(Reuters) - Fox fur fetched record prices at a week-long auction in Finland that ended on Thursday, as strong demand from Asian buyers made up for weak European spending.


Francis Crick's DNA letter to his son sells at auction for a record $6 million
April 10, 2013 at 4:48 PM ET
Christie's /
A 60-year-old letter in which biologist Francis Crick told his son about DNA's double-helix structure, weeks before the Nobel Prize-winning discovery was revealed to the world, sold at a New York auction on Wednesday for a record price of $6 million.
Record Auction Price for Barnett Newman, $43.8 Million, Is Set at Sotheby's
Emmanuel Dunand/Agence France-Presse — Getty Images
Published: May 14, 2013
Keats and Bronte's manuscripts sell for record breaking prices at auction
Amongst the collectible this year, which has seen a surge in demand, is original manuscripts dating back in history,

As a part of the Roy Davids Collection Part III: Poetry: Poetical Manuscripts and Portraits of Poets auction event, the John Keats manuscript from his early poem 'I stood tiptoe on a little hill' sold for £181,250 ($278,128), and Charlotte Bronte's 'I've been wondering in the greenwoods' bought in £92,450 ($141,864), both of which stood to be record breaking prices for their works.
Rare Australian Coin Fetches Record Sale Price
Mar 8, 2013
One of the first coins ever used as Australian domestic currency was this week sold for the U.S. equivalent of about $508,000, setting a new world record, the auctioneer said.
May 25, 2013, 10:20 am
U.S. & World Coin News and Articles
Record-Setting $10 Million Silver Dollar Certified By Professional Coin Grading Service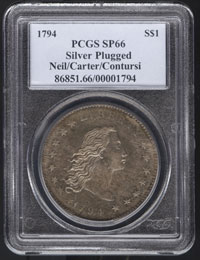 This 1794 Flowing Hair dollar, graded PCGS Specimen 66, set a world record as the most valuable coin sold in an auction, $10,016,875. (Photo by PCGS.)
(Santa Ana, California) - The 1794 silver dollar that set a world record rare coin auction price of $10,016,875 was certified for authenticity and grade by Professional Coin Grading Service (
www.PCGS.com
), a division of Collectors Universe, Inc. (NASDAQ: CLCT). PCGS certified it as a specially-struck (specimen) gem-condition coin and numerically graded it Specimen 66 on the numismatic grading scale of 1 to 70.
Vintage Apple-1 Sells for Record $671,400
By
STEVE LOHR
Apple's
stock price may be well down from its peaks last year, but the market for the company's oldest computers continues to set records.
Emmanuel Dunand/Agence France-Presse — Getty Images
World Record auction price for unique Aston Martin DB4GT
Aston Martin: May 20, 2013 -
A unique Aston Martin DB4GT fetched a world record price of £3,249,500, the highest ever price paid for an Aston Martin at auction, when it went under the hammer as part of the Aston Martin Centenary Sale at Aston Martin Works on 18 May 2013. The sale itself also realised a record total of over £10 million, with every lot sold.
Corcoran's Clark Sickle-Leaf Carpet breaks world record at Sotheby's auction
The Corcoran Gallery of Arts Clark Sickle-Leaf Carpet, from the collection… (Collection of William A.…)
|
5/16/2013 @ 9:52AM
|
Harry Winston Buys 101-Ct. 'Perfect Diamond' For Record-Setting $26.7M At Christie's Geneva Auction
Harry Winston
is celebrating its acquisition by the
Swatch Group
in a big way as it purchased a pear-shaped, D color, flawless diamond of 101.73 carats for more than $26.7 million Wednesday at
Christie's
Geneva Magnificent Jewels Sale.